About Dr. Co-Sy
Dr . Eileen Co-Sy is an Infertility Specialist, Gynecologic Endoscopist, Reproductive Endocrinologist, Menopause Specialist and Obstetrician Gynecologist. Dr. Eileen has been in private practice since 1998 and has been doing IVF as an affiliate of the Victory ART Lab in Makati since 2004.
To date, she has performed more than 360 IVF fresh and frozen cycles with a success rate of 50% and has been awarded Level 3C IVF Practitioner by the PSRM Assisted Reproductive Technology (ART) Regulatory Board, an important qualification to become a Medical Director of an IVF Center in the Philippines. She has stopped accepting new pregnant patients and who have no trouble getting pregnant since 2011 so she can give more time and attention to infertile couples who need her most.
However, she does welcome all old patients whether pregnant or not. The opening of an IVF lab that bears her name is the culmination of her lifelong dream of helping infertile couples become parents for the glory of God. She is a Christian who is happily married to neurosurgeon Dr. George Sy and has 3 children with him.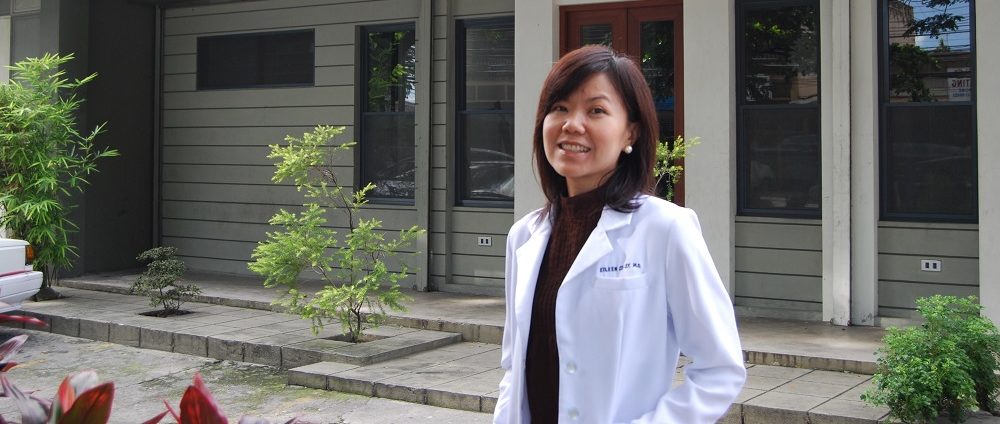 Education
She graduated elementary as valedictorian at Angeles Lip Lin School in 1979 and high school with Highest Honors at Holy Family Academy in Angeles City in 1983. She took her pre-Med course at the University of Santo Tomas (UST) in Manila and graduated Magna Cum Laude in the BS Biology Accelerated Class of 1986. She finished Medicine proper in the same institution in 1990 and subsequently took her internship at the Santo Tomas University Hospital. She passed the Medical Board exams in 1991.
She continued on with her residency training in Obstetrics and Gynecology from 1992-1995 and her fellowship training in Reproductive Endocrinology and Infertility from 1996-1997 at the University of the Philippines- Philippine General Hospital (UP-PGH)
She underwent further training in In Vitro fertilization (IVF) at National University Hospital (NUH) in Singapore, New York University (NYU)- Langone IVF Center in New York, Tu Du Hospital and IVFAS in Ho Chi Mink Vietnam, Embryology Academy for Research and Training (EART) in Mumbai, India. She continuously updates her knowledge and skill by regularly attending local and international conventions.
Fellowship
She is a fellow of the Philippine Obstetrical and Gynecological Society and Philippine Society for Reproductive Medicine (PSRM formerly Philippine Society for Reproductive Endocrinology and Infertility) and the Philippine Society for Gynecologic Endoscopy (PSGE).
She served as Board Member of the PSRM and Regional Director for PSGE for a few years and have organized national conferences and workshops during her terms. She is a regular lecturer for the said organizations.
Dr. Co-Sy served as Chair of the Department of Obstetrics and Gynecology of the Angeles University Foundation Medical Center (AUFMC) from 2011-2016 and has proudly mentored a few of the most outstanding new OB-GYNs in the area and has co-authored prize-winning research papers with them. She is presently a professorial lecturer at the AUF College of Medicine.
Certificates and Licenses